Making a mindful home: interior design tips to create peace and calm
Amid the busy lives we lead, we all know how important it is to de-stress. But finding peace isn't just about the things that we do to unwind – it's also about the spaces we spend most of our time in.
Thanks to a greater awareness of mental health and the acknowledgement of stress in both working and stay-at-home lifestyles, we are increasingly aware of the need to take a few moments for ourselves each day. Some people do this with exercise, others with socialising; what's true for all of us is that we awake in and return to our homes each day, spending a significant amount of time there (it's estimated that we spend up to 90% of each day indoors).
It's easy to take our homes for granted – yet it's just as important, if not more so, that our homes also include space for us to calm, de-stress, find peace. They should be places of refuge and recharge.
The link between home space and headspace
The link between our home environment and our mental state is more established than you might think. Feng Shui – the art of bringing balance, unity and harmony to every aspect of the home – is an ancient Chinese philosophy still in use today, and many studies have found links between our surroundings and our mental, or emotional state.
The latest such survey, from Carpetright, found that two thirds of people (65%) find a messy room stressful, while an even greater proportion (75%) consciously recognise that the layout of a room affects how they feel. This often matches common sense: in a messy, cluttered room it's easy to lose things, causing unnecessary stress when you need to find your keys/phone/wallet/the TV remote.
But with everything else going on, how do we find time to rearrange our surroundings? Where do we even begin? Luckily, a few small changes can make all the difference – following principles that interior designers are well-versed in. Read on for our top tips, all of which can be applied in minor ways and adapted to every kind of living space.
5 top tips for creating a mindful space in your home
● Bring the outdoors in. Not just plants (see below), but all kinds of natural materials like wood and stone. Stone surfaces with rough texture are also a great way to add contrasting texture.
● Consider Feng Shui principles. These include clearing clutter to make space – seek to keep only items that are genuinely useful or genuinely loved. Find out more about Feng Shui in the home here.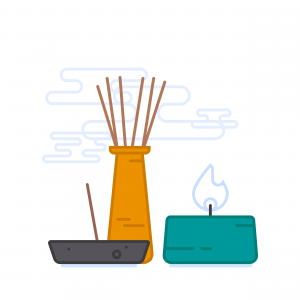 ● Digital cleanse. Create an electronic-free space without phones, tablets, TVs and computers. If you can't create a space that is permanently free from these devices, try and carve out a set period of time – even a few hours can make a difference. Charging your phone in a different room (day or night) is one good way to achieve this.
● Stimulate your senses (beyond sight). Our eyes work hard all day; one important mindfulness principle is to find time to connect with your other senses. Scented candles, textured soft furnishings and listening to music can all help with this – try closing your eyes for 5 minutes, and focus your attention on a different sense.
● Apply these principles to new purchases and home improvement projects. Focus on quality over quantity. This will not only help you cut down on clutter and prioritise items you truly love, but buying fewer things that last longer is also better for the environment.
You can see more interior design tips in the infographic below.
Beneficial botanics
Plants are a fantastic way to bring colour, freshness and the natural world into your home; plus, they come in all shapes and sizes. They inhale more carbon dioxide and exhale more oxygen than humans, so can help to improve air quality in the home.
"Plants are nature's air cleaners: they can trap harmful airborne toxins from vehicle fumes and furniture and break them down into harmless compounds. Studies have shown that just one potted plant per 100 square feet of space can keep airborne toxins well below recommended levels." (Mark McCance, Director at Hortology.co.uk)
A good indoor plant could be as small as a Baby Rubber Plant, tiny enough for windowsills and desktops, or as large as a Kentia Palm – which, despite its size, is relatively easy to care for.
No-stress de-cluttering
While the principles of the popular Marie Kondo method advise being ruthless, this can be intimidating. Focus on one room at a time, or even one drawer, and start with 3 piles: what to keep, what to throw away, and what you aren't sure about.
Try as hard as you can to put things in the "keep" or "throw away" piles – but if a decision becomes stressful, place the item in the "unsure" pile. Find a space to stow away the "unsure" pile, and give yourself a timeframe (e.g. 6 months). If you retrieve anything from there within your timeframe, find a proper home for it – and throw everything else out.
This method means that items you're unsure about are cleared away as if you'd got rid of them, so your day-to-day living spaces feel the benefit, but you've delayed the final decision until you're really sure.
Interior design tips for a relaxed, peaceful living space