A guide to making gardens more accessible

for the elderly
Although we may be living longer, old age can make us more fragile. With this outlook, it's important for everyone to consider how accessible their homes and gardens are to older people – whether it's for family or to safeguard your own aging process.
There's no denying that as a society, we're living much longer than ever before. By 2039, one in every 12 of us will be aged over 80, and one in three babies born in 2013 are expected to reach 100 years of age.
The garden is one of the areas of the home that we all appreciate most. It's a space to relax, cultivate or have guests over for summer parties – but as you age, it often becomes a point of pride as many get into the hobby of gardening.
Additionally, numerous statistics point to the health benefits of gardening. 
Whether it is just sitting in the sunshine and watching the birds and bees, or doing something more active, getting out in the garden is good for all of us. But this can become harder. In 2007, the Royal Society for the Prevention of Accidents (ROSPA) released figures that showed there were 115,000 garden falls, slips and trips reported a year.
And of course, this article is referring specifically to the elderly, but much will apply to anyone who has mobility issues, for whatever reason.
Whether you're future-proofing your garden against your own aging, or making your garden as accessible as possible for elderly guests and/or residents, here's how to do it:
1.      Raised Beds
For older people, and anyone with mobility issues, low garden beds can become a problem. For wheelchair users a raised bed, which is between 18-24 inches high, is perfect. For those standing, building a larger planter that is around 30-36 inches high eliminates the need to bend down.
If planning for wheelchair access, you'll need pathways that are at least 3-4ft (91-121cm) wide. They should have enough room on all sides so that gardeners can reach the centre.
2.      Resting areas
There's no hardship in creating a resting area or two across your garden, as the elderly may need to take a break as they're exploring your outdoor space. And it's nice for all of us to be able to sit quietly and enjoy the garden from different viewpoints.
In smaller gardens, this could be a bench or two. In larger areas with more planters and flowerbeds, you could add stools, or kneeling areas to allow elderly people to work on flowerbeds.
3.      Pathways
To ensure that there are no slips or trips, making sure you have a flat pathway is essential. Flagstones and slabs are good options, but best laid with a slight slope or close butted to allow water to run off. Tarmac and concrete are both cost-effective and low maintenance, but aren't visually attractive for a garden. Avoid cobbles, as they can be trip hazards for all ages. Replace any steps with non-slip ramps where possible, supported by handrails.
4.      Decking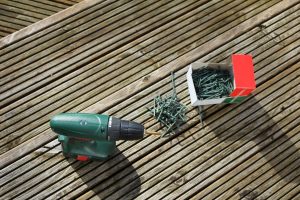 Lay down those decking boards as these can make for a great spot for chilling on a summers day. Decking is low maintenance, stable and if you install certain types of decking such as enhanced grip boards, which minimise the risk of slipping, they're perfect for creating a 'living space' in a garden. Low-slip decking can help reduce the risk of slipping, which is the leading form of accident for all age groups in gardens.
As well as this, they can also provide stability. Another positive way to use decking is to deck entire areas and add planters and flower boxes to them, so elderly gardeners can garden either from wheelchairs or with minimal effort – cutting down the time needed to grow plants without the effort required to maintain fully grassed areas.
5.      Handrails
Handrails can help older citizens venture across the garden without the fear of falling. They should be placed, at a minimum, near any changes in level, steps or ramps. They should extend to 850mm above step nosing or ramp surfaces and should also be at least 1m over landing. Generally, rails are most comfortable when they're not too narrow or wide to allow better grip. 45-50mm is a rough rule of thumb for their circumference.
6.      Plants
There are many advantages of an older person gardening — it will give them a sense of independence and control. For that reason, you can't rid a garden of the flowers and plants in the name of safety. Instead, strike a balance between beauty and safety by using hardy plants that can withstand the seasons with very little maintenance.
Those were just a few ways that you could make your garden more accessible to older people. Which of the above will you be implementing?