Pain Relief with CBD Massage Oil
Nobody is exempt from pain. It's a form of discomfort all people are bound to experience at various times in their lives. You feel pain when pricked by a needle, or when you stub your toe on a piece of furniture at home. Some people can tolerate even the severest pain while others have low tolerance to even the most minor types of pain. Scientists are in a constant pursuit to find the perfect remedy for pain, and, currently, there are painkillers, anesthesia, and ointments or patches for body aches.
One of the more recently discovered pain remedies, CBD oil, is now available in the market in different varieties. You can now purchase CBD-infused products like food, drinks, creams, lotions, makeup, skincare, and supplements. Innovations are being developed, like oils for CBD massage that are becoming increasingly popular treatments for acute and chronic pain.
What Exactly is CBD Oil?
 CBD or cannabidiol is an extract from hemp that has little to no components of THC (tetrahydrocannabinol). Though the product is derived from a cannabis plant, low THC levels mean that you are not going to be "high" after the body has absorbed CBD oils. Used as an alternative medicine, CBD is used by people from all walks of life to help with chronic pain, anxiety and depression, diabetes, obesity, hypertension, epileptic seizures, and acne.
Why Get a CBD Massage?
◊ Through massage, CBD's healing properties are absorbed by the human body's largest organ — the skin. CBD reduces pain because of its anti-inflammatory properties. Pain is usually a result of inflamed muscles and joints, and products that prevent and remove swelling are the perfect solution to combat chronic pain.
◊ Massage has been scientifically proven to reduce the discomfort caused by physical pain. According to a study, massage is therapeutic when it comes to alleviating muscle soreness as well as improving muscle performance after working out and doing physically strenuous activities. Its proven effectivity is the reason why many people, not just gym-goers and athletes, flock towards massage spas on a regular basis.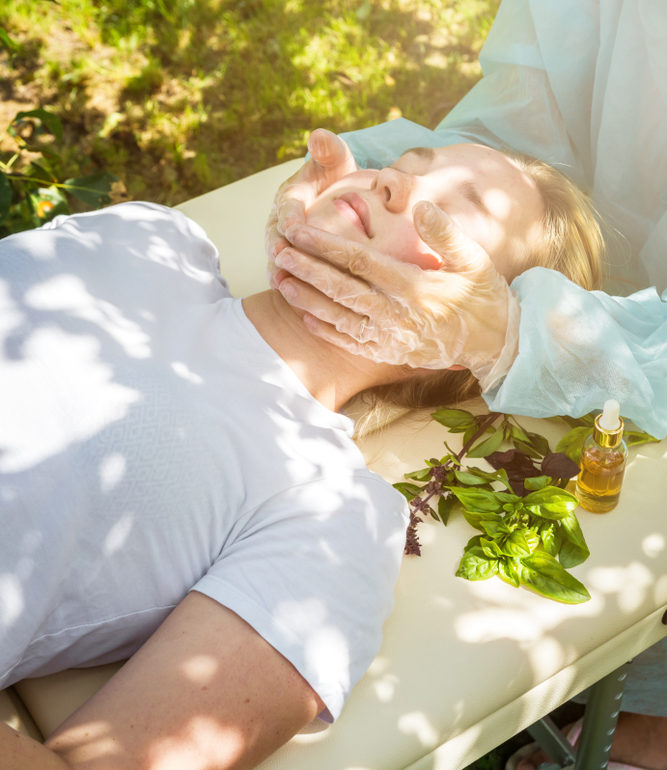 ◊ CBD massage reduces muscle stiffness. Massage alone works wonders already. Imagine if it is combined with CBD, an extract that is scientifically proven to prevent and alleviate chronic pain. Most CBD users buy tinctures with droppers so they can consume it orally. Through massage, the essence is applied topically and the skin is allowed to absorb every amazing component that CBD oils have. If there is a specific area that feels painful, you can also spot treat.
◊ Through CBD massage, a person who experiences chronic pain because of arthritis, spinal cord injuries, and fibromyalgia can be relieved from the discomfort caused by the said conditions. It works by working with the body's natural endocannabinoid system, and by interrupting the pain receptors in your body. Instead of stimulating pain, CBD manages the release of serotonin that can help regulate the imbalances in your body caused by stress, lack of sleep, and heavy exercise.
◊ Massage spas use CBD oils that are made especially for body pain. Spas are now joining in the current trend of using CBD oils. Nowadays, they offer packages wherein massage oils are combined with it. You will not have any problems finding the perfect CBD oil for massage because they already have it covered. Also, these oils are usually purchased from reputable suppliers.
Precautions
CBD oils are truly magical in treating various medical conditions. If you are considering trying CBD oil massage, find a reliable spa that uses products and materials from reputable brands. There are already numerous suppliers who offer CBD oils for lower prices, but the quality is questionable. Such may also contain chemicals and toxins that can be harmful to your well-being.
In the UK, check that your supplier is registered with CannaPro and/or the Cannabis Trades Association.
The masseuse should also be knowledgeable in using the right concentration and dosage for different parts of the body and various types of pain. It may be costly, but remember that CBD is not only going to help you manage pain, but it can help you in feeling less anxious after treatment. If you have trouble sleeping at night, expect comfortable uninterrupted sleep after getting massaged with CBD oils.
If you are considering using CBD massage to treat more serious types of pain like post-chemotherapy body aches, it is best to consult your physician first. There may be certain medications that can alter the effects of CBD in your body. Also, the use of CBD can produce mild side effects that can affect your well-being and lifestyle. If you have no medical reservations, however, then you can grab your keys now and head to the nearest spa that offers CBD oil massage.
Images by Shutterstock.