Wildlife-friendly trees for small gardens
Planting trees in the garden is often a daunting prospect. If you have limited experience when it comes to gardening, or your outdoor area is compact, you may be wondering if adding trees is the best idea.
The good news is that planting a tree is not difficult and gardening experts suggest that well chosen trees can make your garden look bigger. There are certainly plenty of trees that thrive in small gardens. They can enhance the aesthetic appeal of your external space, clean the air and help you breathe and, at the same time, boost your mental and physical health. And providing you make the right choices, also attract more wildlife-into your garden.
If your garden is small rather than sprawling, don't panic. It is still possible to plant wildlife-friendly trees.  Start by considering the space you have available and have a look at the type of trees that are thriving in your neighbourhood.
Choose carefully, preferably from a specialist grower, and your trees will give you years of pleasure, especially if they are wildlife-friendly. Once established, most will need little maintenance apart from occasional pruning to keep them in shape. If you find pruning challenging or your specimen is getting too big, you could always enlist the services of a tree surgeon.
Are you ready to start narrowing down the options for which wildlife-friendly trees to plant?
If you're keen to attract fur-covered, feathered and other winged visitors to your garden and do your bit to protect the local wildlife, here are some tips to turn your garden into a heavenly haven for passing squirrels, birds, bees, and butterflies.
Amelanchier laevis 'Snowflakes'
Amelanchier, commonly called smooth serviceberry, are small deciduous trees, often multi-stemmed, producing crisp white flower which burst into bloom in spring. Although at its most magnificent in the springtime, this is a tree that offers something all year-round. As summertime approaches, blackbirds will enjoy feasting on small berries, and as autumn looms, the leaves turn a fiery orange-red hue.
Amelanchier laevis Snowflakes is an upright tree reaching up to 8 metres high.
Rowan ( sorbus aucuparia)
Rowan, also known as mountain ash, is native to the UK. They are low maintenance, versatile, slim deciduous trees that showcase seasonal changes, with fluffy, cloud-like white blossoms loved by bees and other pollinators giving way to colourful berries and flame-coloured leaves. The berries draw all kinds of feathered friends, and are particularly popular among blackbirds, starlings, chaffinches and siskins. Rowan berries also provide fodder for over 100 different insect species.
They also provide fodder for the human species!  The berries are bitter and inedible when raw but when cooked can make a deliciously deep ornage jelly.
There are many different varieties of Rowan so ensure you purchase from a specialist and check the eventual height and spread.
Holly (Ilex aquifolium)
Holly is one of the most recognisable tree species. Usually associated with the festive period and robin red-breasts, holly trees provide a safe, secure base for many species of nesting birds. Finches and blackbirds can often be spotted roosting amidst holly branches, and the berries also attract wood pigeons, robins, and thrushes. The holly blue butterfly, a common British butterfly species, is also a frequent visitor to gardens with holly trees and bushes.
Hollies are evergreen with wonderful glossy green leaves all year round. They typically grow to 15m tall but can easily be kept smaller by pruning. Although generally known for being extremely prickly, there are also smoother leaved varieties available.
Crab apple (Malus sylvestris)
Crab apples are an ideal choice for gardeners who are eager to plant trees that will draw in local wildlife without taking over the entire outdoor area. These trees tend to reach a maximum height of 9 metres but can be kept smaller still if required, and they provide food and shelter for different species throughout the year. In the spring, the sweetly-scented blossom is a beacon for bees, while the fruits that appear in autumn attract redwings and fieldfares.
The fruits also make delicious crab apple jelly.
Spindle (Euonymus europaeus)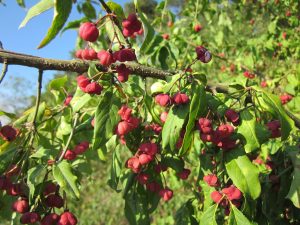 The spindle tree is relatively short and it grows in a similar way to shrubs, with dense outcrops that are perfect for roosting birds.
There are various types of spindle. The vibrant Red Cascade, a deciduous shrub, is an excellent choice for bijou backyards, as it only grows to around 13 feet.
Spindle trees tend to reach peak levels of beauty during the autumn, when the leaves turn scarlet and bright pink berries can be spotted in the claws of hungry robins and blackbirds.
Alder buckthorn (Frangula alnus)
Alder buckthorn is a shrubby tree, which is native to the UK, often called black alder due to the berries which turn from red to black as they ripen. It is characterised by dense leaves and small, vibrant berries, which are quickly seized upon by winged visitors.
This tree is one of the best options for those keen to entice bumblebees to the garden.
Alder buckthorn is also suitable for hedging and wild or woodland gardens.
Planting and growing tips
Planting trees may be a scary prospect if you're not a green-fingered guru, but there's nothing to worry about if you've chosen the right kinds of trees. Opt for smaller trees, like those listed above, and make sure you prepare the ground beforehand. Follow planting instructions, and prune your trees as seasons come and go to promote healthy growth.
Before planting, you'll need to prepare your garden. Clear the space of any unwanted vegetation and rubble and dig a whole as deep as the rootball and ensure the width is about three times the diameter of the root system. If your soil is very heavy or sandy you could improve the structure by digging in some organic matter such as such as compost or well-rotted garden manure, but you don't need fertiliser at planting time.
Container grown trees can be planted at any time of year but will need lots of watering if you plant in spring or summer. Bare-root and rootballed trees are best planted in autumn or winter.
Trees are vital for wildlife, including birds, butterflies, and bees, and they can also have a stunning impact on the look of your outdoor space. Even if you have a small garden, there are plenty of trees that are ideally suited to creating a beautiful, serene wildlife haven.
---
Picture credits:
Robin image by Eugene Brennan from Pixabay
Amelanchier image by lqlqlqlq75 from Pixabay
Rowan image by danuta niemiec from Pixabay
Holly image by Elisa Way from Pixabay
Crab apple image by Brent Connelly from Pixabay
Spindle image by WikimediaImages from Pixabay
Alder buckthorn image by WikimediaImages from Pixabay