Do you have around 4 hours a week spare time? Would you be interested in helping to empower local families?
The Southend Stronger Families project is currently looking for volunteers. No specific experience or qualifications are required.
Family Action is a charity committed to building stronger families by delivering innovative and effective services that reach out to many of the UK's most vulnerable people, empowering people and communities to address their issues and challenges by providing practical, financial and emotional help.
Our local project, Southend Stronger Families, works with local people within Southend Borough helping them to turn their lives around; enabling them to support their children's development and learning as a result of tailored support and schools groups, assisting them to increase their access to information, support and advice, providing them with the opportunity to feel less isolated and helping them to attain improved health and wellbeing.
Volunteers are at the heart of everything we do and have a huge impact on the extent of services we can provide.

Our volunteers visit families in their own homes, provide detailed reports of the visits, attend regular training, case discussions and supervision.  An average commitment of 4 hours a week for a minimum period of one year.
There are worthwhile benefits for our volunteers also. The opportunity to develop new and existing skills, ideal for someone looking for a career in health and social care; the chance to meet new people and make new friends if they are new to the area themselves; the prospect of gaining experience and a reference for future employment and CVs; a way of increasing their own health and well-being.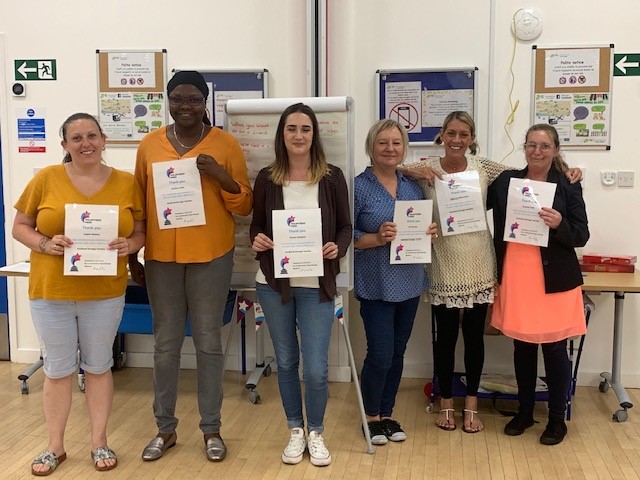 The following are just a few examples of volunteers from different backgrounds who have supported the programme and also benefitted themselves:
Volunteer S has a career in education and wanted to broaden her experience by volunteering for Southend Stronger Families.  S brought many skills and much experience; she was able to make many valid suggestions within her volunteering role and has recently left us having secured full time employment. Although her time with us was fairly short, S enriched our volunteer programme by sharing her skills and bringing added value.
Volunteer B is a well-educated young lady who works part time following completion of her degree course. B has decided that Family Support Work is her chosen career path going forward and has been supporting a local family as a volunteer to improve her CV.
Volunteer C moved with her children from outside the area and had no support network, family or friends locally and became involved as a volunteer with Southend Stronger Families in order to develop her social networks and to give back for help that had given to her in the past.  C has developed in confidence and made lot of new friends.
Volunteer A was referred to our project originally aa a single parent with behavioural difficulties and attended one of our Parenting Groups. A flourished at the group actively participating and making a valuable contribution. She decided to use the skills she had developed along with her own experiences to help others as a volunteer and has successfully co-facilitated two further Parenting Groups and is now about to start as a Family Support Volunteer. A wants to work in Family Support and hers is a brilliant success story from service user to a new career.
Volunteer D said:
I volunteer because helping others build a brighter future for their families, gives me joy and peace."
For this role with Southend Stronger Families, volunteers need to be very confident in talking and listening to people, with a friendly, empathic and non-judgmental attitude. Volunteers should also be strong team players with a good understanding of confidentiality.  Full training and support is provided and all out of pocket expenses are paid.
Please contact Deborah Webb: deborah.webb@family.action.org.uk or 01702 431109 for further information.