Pesticide-Free Towns

Have you ever considered how much damage pesticides have on the environment and our health?
Are you aware of the extent of pesticide use by local councils to control weeds?
Would you like your town or village to become pesticide-free?
Wherever you live in the UK, the following article by PAN UK answers these questions and explains how you could get involved:
PAN UK is the only UK charity focused on tackling the problems caused by pesticides and promoting safe and sustainable alternatives in agriculture, urban areas, homes and gardens

.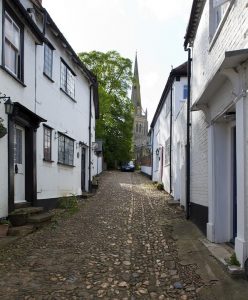 Pesticide use in our towns and cities
The widespread use of pesticides in the UK is damaging our environment and our health. Often we think of farmers spraying their fields with pesticides to grow crops, but how many of us think of pesticides being used in our towns and cities?
Every year, hundreds of tonnes of pesticides are used in our urban spaces, mainly herbicides to control weeds. According to a survey from this year, 98% of councils are using herbicides to control weeds in parks, playgrounds, pavements and other hard surfaced areas around public areas such as schools, hospitals, housing estates and shopping centres. This means that millions of us are directly exposed to pesticides every year, usually without our knowledge.
Pesticide use linked with cancer
Pesticides are designed to kill pests (e.g. certain insects or weeds), but they can often have unintended effects on species that they aren't targeted at such as wildlife and humans. For instance, the most widely used herbicide, glyphosate, is designed to kill weeds. However studies have shown that it can interfere with various biochemical pathways in the human body, can cause imbalances in gut bacteria and could even cause cancer according to the World Health Organisation.
Pesticides damaging our natural environment
As for impacts on our natural environment, studies have also found that glyphosate is getting into water systems and damaging aquatic life, upsets the balance in soils and can indirectly impact birds and other animals by destroying wildflowers and other plants which provide them with habitats and food.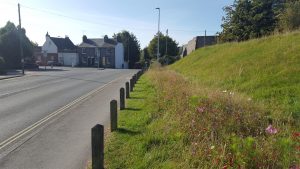 Pesticide-Free Towns Campaign
That's why we launched our Pesticide-Free Towns campaign in 2015. It's time to get UK councils to end their use of potentially harmful pesticides and make the switch to greener, healthier non-chemical alternatives. The campaign focusses on reducing pesticide-related harms but it is also about creating a cultural shift to get people thinking about biodiversity and the environment. With such a high proportion of the UK population living in urban areas, it is often easy to feel detached from nature but, given the current climate crisis and crashes in wildlife populations including rapid insect declines, it is vital that we nurture every square inch where nature can thrive
It's achievable!
The good news is that going pesticide-free is completely achievable, we just need the political will! France has banned all non-agricultural pesticides, and cities like Paris have been managed without pesticides for over 15 years. But Paris did not simply ban pesticides and leave it there. They came up with a system to manage the city without pesticides through a scheme called "Végétalisons Paris!" which gets residents involved in greening their own neighbourhoods by planting wildflower beds.
Which towns and cities are pesticide-free?
Now there are lots of towns and cities in the UK going pesticide-free, to name a few: the London borough of Hammersmith & Fulham went pesticide-free in 2016; Bristol started phasing out pesticides this year; Trafford in Greater Manchester just passed a motion to phase out pesticides; the London Assembly recently committed to phasing out glyphosate and many more towns and cities are looking to join the Pesticide-Free movement sweeping across the country.
Let's get Essex towns pesticide-free
There are thousands of people across the UK lobbying their councils to stop using pesticides. In Essex, concerned local residents are campaigning in Southend-on-Sea, Braintree, Epping, Chelmsford and Harlow to make their towns pesticide-free. See a map of all the places in the UK with pesticide-free campaigns here.
Essex County Council is a big user of glyphosate, spraying 5,015 litres at an estimated cost of £42,000 per year. Despite this, the Council's 'Green Essex Strategy 2019' fails to even mention a plan to reduce or phase out pesticide use in the county.
But councils listen to their constituents. Whether it's a petition, a letter, a meeting or an event, there are lots of ways you can lobby your council to go pesticide-free. If you want to campaign in your area or just get some information or advice on anything related to pesticides, you can contact PAN UK: pesticide-free@pan-uk.or visit the PAN-UK website.
PAN UK are the only UK charity focused on tackling the problems caused by pesticides and promoting safe and sustainable alternatives in agriculture, urban areas, homes and gardens. Their work includes campaigning for change in policy and practices at home and overseas, co-ordinating projects in the developing world which help smallholder farming communities escape ill-health and poverty caused by pesticides, and contributing our wealth of scientific and technical expertise to the work of other organisations who share our aims.
As a small charity that endlessly struggles to raise funds, donations are gratefully received.

PAN UK's aims:
• To eliminate hazardous pesticides
• To reduce dependence on pesticides
• To promote ecologically sound alternatives to chemical pest control