At the end of a hot summer's day, when the sun is sinking, the air is cooling and the birds are singing their best before going to bed, what pleasure it is to take a short walk around the neighbourhood, perhaps chatting to the neighbours and looking at the neat suburban gardens.  But wait, what's going on here?
Where once there were neat lawns, flower borders and bushes, a new style of garden is emerging
– fence to fence paving, plastic grass and barely a garden for any self-respecting bee to find a flower to pollinate!
Because there's been a massive growth in the number of cars on our roads – up from 19m to 31m between 1971 and 2016 – we're always looking for somewhere to park, and if we aren't too keen on gardening, aren't we always keen to cut down on the work?  So, what better solution to both problems than paving over the front garden, laying plastic grass and 'planting' plastic bushes.
But, hasn't the government recently called a climate and environmental emergency?  Aren't we all asked to join in the national crusade to cut down on carbon emissions? How does our new-style 'garden' fit in here?
New government regulations in 2008 removed the need for planning permission for covering a front garden with a hard surface but it had to be permeable to allow rain water to drain off otherwise it can lead to flooding.
However, it seems that there was little concern for the loss of the use of our front gardens by wildlife.  Bees, worms and other insects (on whom, we need to remind ourselves, our own food supplies depend!) now need to go further afield to find a suitable place to live or visit and these are increasingly difficult to find.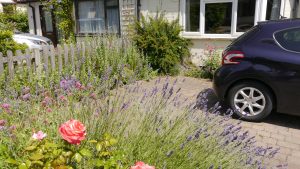 Then there is the part played by grass and garden plants in keeping our air fresh, absorbing pollutants and (let's face it!) keeping our planet fit for us to live on.  The plant life of planet Earth is what helps to keep the planet temperature stable and the carbon dioxide/oxygen balanced and within the limits which make human existence possible.  We destroy and neglect the natural world at our peril!
Of course, you may need to find a parking spot for your car(s) but perhaps you could leave a space at the side for the natural world to thrive. And, if you need to cut down on your work in the garden perhaps, for the cost of laying the fence to fence paving, you could provide work for a gardener …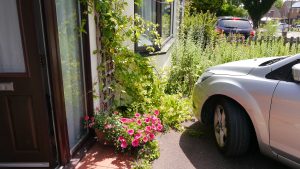 If you already have a fence to fence paved front garden that is serving a specific purpose, you can't be expected to rip it all up! But perhaps you have corners where you could place some attractive pots, or places to hang baskets, all filled with beautiful wildlife friendly planting? It's amazing just how many plants can be fitted into a small space beside the front door or in a border along the fence.  Many wildlife-friendly plants also smell beautiful, so what a lovely welcome for you and visitors as you stroll through the garden to your front door.
I am so keen to encourage more people to retain wildlife friendly front gardens that I have started to post a little thank you note through the door, as pictured below.
Perhaps you would consider doing the same?
Click here: "Front Garden thank you cards" for a printable version (2 cards on an A4 sheet).
I'll normally knock and personally give these to people if they are in. I find I always get a friendly response. But feel free to just pop the card through the letterbox. It's quite a nice touch to add your name on the back, even if it is just your first name.
Editors note: we would love more pictures of pretty 'green' front gardens. Please do email us: jill@healthylifeessex.co.uk with your pictures and/or stories and we'll include them in a separate blog