How to keep your eyes healthy

A lot of people take their sight for granted. It is not until there is a serious problem with their eyes that they start to realise how much their site means to their quality of life. The main reasons for blindness and low vision in some parts of the world are age-related diseases such as macular degeneration, cataract, diabetic retinopathy and glaucoma. It is, therefore, imperative that you look after your eyes as you get older – it should be an essential part of your health maintenance.
If you would like to find out how you can look after your eyes better, read our top tips below.
Look away from the computer screen
The modern world now calls for many people to spend most of their day looking at screens. No matter whether it is a phone, tablet, laptop, desktop, smart watch or television, a days' worth of screen staring can take its toll on your eyes and cause many problems.
Experts have suggested that short, frequent breaks are better than less frequent longer breaks, so a 5-10 minute break after 50-60 minutes is better than a 20 minute break every 3 hours.
Staring at a computer or phone screen for too long can cause:
Eyestrain
Blurry vision
Trouble focusing at a distance
Dry eyes
Headaches
Neck, back, and shoulder pain
Visit your optician / ophthalmologist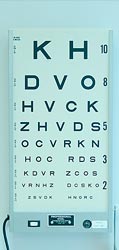 We tend to think of visiting an optician when we notice our oursight is deteriorating but actually, we need to ensure we see a qualified ophthalmologist. Everyone needs a regular eye exam, it doesn't matter whether you are an adult or a child, as it helps protect your sight and ensure you maximise your vision, with the appropriate glasses etc. if need be. But full eye exams with equipment such as a direct ophthalmoscope can also find diseases, like glaucoma, that have no symptoms. It's important to spot them early on, when they're easier to treat. Make sure you regularly have a check-up with your ophthalmologist to ensure that everything is in tip-top shape: not just your eyes, but also the myriad of health issues that might be discovered during a comprehensive eye examination.
Eat well
Everyone's mother tried to get them to eat their vegetables by telling them that carrots will help them to see in the dark, but there is actually some truth to this old wives tale. Many nutrients will help keep our eyes as healthy and our eyesight as keen as possible as we age. Leafy green vegetables contain two of the best antioxidants for the eyes: lutein and zeaxanthin. Fatty fish such as salmon, mackerel and sardines all contain high levels of omega-3, an essential fatty acid that stimulates eye function. Citrus fruits such as oranges, lemons and grapefruits all boast high levels of vitamin C, an antioxidant that helps the eyes function optimally. All these nutrients can help
lower your chances of getting macular degeneration and cataracts.
Fresh air
Air is not only good for our lungs, heart and vessels. The corneas of your eyes also get oxygen directly from the air. The reason for this is that they do not have their own oxygen supply. Anyone that has to sit in a smoky and stuffy room should frequently relieve his/her eyes by getting some fresh air. But we all need to ensure we get more time outdoors, in an unpolluted area if possible, as there is such a strong link with improving eyesight as well as general health. Even in quite built up areas, there are often some lovely country parks and nature reserves, such as those in Essex.
Furthermore, permanent contact lens wearers should have a spectacles day every now and then in order to give their eyes a rest.