Exciting changes are about to take place for Age Concern Southend as a listed building in
Hamlet Court Road, Westcliff will provide a delightful "Haven" for Older People…..
Update August 2018
And so the fundraising begins…….
Do keep an eye on our Community & Fundraising Events section for details. But in the meantime you might like to: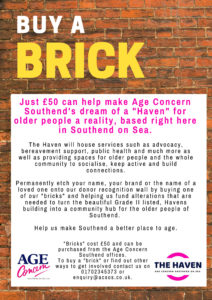 Buy a Brick
Bricks are just £50 each. Your name, your brand or the name of a loved one will be etched onto the donor recognition wall.
Sponsor a Space
There will be a variety of offices and meeting rooms at The Havens. If you sponsor one of these spaces, you they will get naming rights to the space you have sponsored as well as publicity opportunities and other partnership possibilities.  Sizes and costs will vary, but a ball-park figure is £5k.
If you are interested in either of these opportunities, contact the ACSOS offices: telephone 01702 345373 or email: enquiry@acsos.co.uk
---
Update June 2018
It hasn't been a straightforward journey, with some objections being more than a little surprising (such as from the Hamlet Court Conservation Forum) but at the beginning of June 2018, Southend Council approved the conversion plans.
Lin Boulter, CEO of Age Concern Southend, who has worked tirelessly to obtain this result, was clearly delighted but said: "Now the hard work begins!"
Please contact Age Concern if you feel you can help in any way.
---
January 2018
Age Concern Southend and Havens are pleased to announce that they have now signed Heads of Terms agreement for Havens to let their beautiful, Grade II listed building on Hamlet Court Road to Age Concern to create a lively, community hub for the older people of Southend.
The agreement is subject to achieving change of use planning approval from Southend Borough Council along with some necessary small alterations. The good news is the integrity of the building will remain mainly as it is. The buildings many period features, including the stunning stained-glass windows on the first floor and magnificent staircase, will remain in situ.
Havens will continued to trade through Christmas 2017 and will finally close mid-January 2018. Havens will then trade as an online retailer including www.havens.co.uk and www.justglassware.co.uk and will be based on the second floor of the building. There may be a click and collect facility for local customers too.
Lin Boulter and Mike Nicholson of AGE Concern Southend have been looking for larger premises than those they currently occupy in Hamlet Court Road to fulfil the ambition of creating a 'community experience' for our ageing population. Although it is sad to see a much-loved locally owned and operated department store close, the premised provide an almost perfect solution for the Age Concern vision.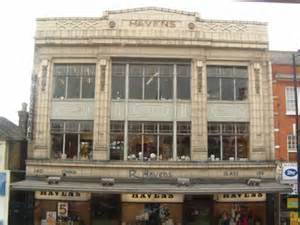 Similar facilities in Eastbourne and Plymouth have already been established and have become an essential part of the community.
AGE Concern Southend, which currently provides befriending services, community transport and advice to older people, will develop this centre so older people will be able to easily gain access to services. They will also work alongside a variety of other agencies such as advocacy and bereavement services, and more specialised services such as support for people living with dementia. The centre will also house public health services that will help older people manage their health and provide the opportunity to get their hair done, feet sorted and enjoy beauty treatments.
As well as offering services, the centre will also be a place where they can go to enjoy themselves, meet people and have fun. Havens will house Club 50+ (currently located in Queens Road, Southend) which offers tutor-led keep fit, dancing, tai chi and yoga classes with facilities for people to play table tennis, carpet bowls and snooker, whist and bridge. There will also be a large café offering a range of hot and cold drinks, snacks and lunches at a modest cost.
Nigel, Paul and father Graham Havens are all delighted with the decision that the building will be used as a community centre. The Havens Store was established in 1901 by the Havens family and developed as a bespoke retail store in 1935. The last 10 years has seen a huge shift in the way the consumer shops and many now resort to buying online. Havens first started trading online in 1999 and the growth of their website is equalled, unfortunately, by the decline in the store sales.
Nigel Havens says that the revitalisation and future of Hamlet Court Road and many other secondary High Streets across the country will be driven by community services, leisure and culture. With footfall returning, we will then see the re-emergence of small specialist independent retailers.
Lin Boulter, CEO of AGE Concern adds:
"We are excited to be working with Nigel and Paul so that we can keep the much-loved Havens legacy alive, while creating probably the most significant community project to take place in Southend for some time.  The centre will provide volunteer and paid work opportunities and, at weekends, the prospect of providing inter-generational activities and services that benefit everyone.' 

'This is our vision; a place that will regenerate the whole area and provide a real community experience – but we'd like you to help us.  What would you like to see there? What's missing? As a local business, would you like to offer your support?'  If you'd like to be part of this fantastic community project, please call Lin on 01702 345373 or email: lin.boulter@acsos.co.uk.'
This is an amazing project for all concerned. It is a project that will aid the revitalisation of Hamlet Court Road, benefit the community, and it will provide a legacy for a small, standalone charity and a historic and much loved local family.
For more information about Age Concern Southend, see our article in the charity section of the website, or visit http://acsos.co.uk/