Local mental health and wellbeing charity Trust Links is launching an exciting new course for people from the Castle Point and Rochford areas to learn gardening skills, cooking skills and to share a meal together. The 'Grow It, Cook It, Eat It' course runs for 12 weeks on Tuesdays – in the morning in Thundersley and in the afternoon in Rochford.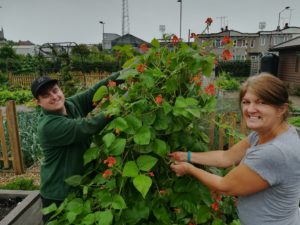 If you are over 18 and interested in finding out more about growing your own vegetables and how to cook from scratch with fresh ingredients, this free course will be ideal for you.
The Grow It Cook It Eat It course will be based at the award winning Growing Together community gardens in Thundersley between 10am and midday, and then at 34 Rocheway, Rochford between 2pm and 4pm.
The course starts on 4th September, although you may be able to join later if there are places available.
Courses are small in number, so if you are not used to group learning or have not done so in a while you can be assured you will be in a safe, supportive and welcoming environment.
Matt King, CEO of Trust Links, said:
"We are really looking forward to running the Grow It Cook It Eat It course again as it was so successful and popular last year. Previous participants have said that they really enjoyed the course and got a great deal out of it. We are grateful to Public Health in Castle Point and Rochford for funding this project."
Sarah Alderton, Public Health Officer at Castle Point and Rochford, said:
"We are delighted to be funding this course, equipping people with the skills to be able to cook healthy meals from scratch, helping them to improve their dietary habits and lead healthier lives. This is one of our main priorities across Castle Point and Rochford, where obesity rates are high, and so it is great to see local charities like Trust Links running initiatives that help to address this public health issue."
Pre-booking is essential. If you are interested in signing up for these courses, please call Trust Links on 01702 213134 or email admin-support@trustlinks.org.