Would you like a toned and sculptured body like this? Check out the best workouts to build muscle mass.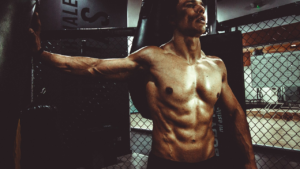 When someone says that he wants to build more muscle mass, you'd probably think, "So, yeah, this guy surely wants to look more attractive." And that's for sure indeed. Because the moment you finally take those small steps into the road of a happy, fit, and muscular life, is also probably the moment you realise that "Hey, this rapid unhealthy weight gain has to stop. I should get rid of this constant belly bloat. I should do something about this double chin, too!"
While it is the advantage you can first think of, sculpting your body is more than just a natural way to bring out the best version of your physical beauty. We exercise because we prioritise health. And when you're healthy, you look great as well, which in turn, would make you feel more confident about yourself so that you start believing you're actually attractive.
Through specific strength training, we can gain more muscle mass. Doing so is an essential part of maintaining a healthy weight, avoiding injuries, and boosting strength, metabolism, and energy. Read more about that here.
In this article we list down best workouts you can do to build more muscle mass.
Bodyweight Training
Some may doubt if you can really sculpt the strong, muscular body that you want by just using the body that you already have. Is it possible to build muscle without using gym equipment but rather just your own bodyweight?
Yes, it is. However, there's one rule you need to keep in mind. Giving your muscles constant challenge by gradually doing more difficult bodyweight exercises over time is highly important. It's the counterpart of adding heavier weights to your workout routine. When you do so, your muscles will adapt to the increasing challenge, thus, allowing it to grow and gain more strength.
Fitness experts recommend doing the three best bodyweight exercises including squats, push-ups, and pull-ups/chin-ups.
Squats
There's a common misconception that squats are just leg exercises or workout for the lower body muscles only. Actually, though squats are simple and there's no equipment required, it's one of the best workouts to build muscle body-wide—that means both your upper and lower body. Think about those rock-solid abs you've ever wanted!
And hey, don't underestimate the benefits of squat exercises. Novice and seasoned athletes alike always incorporate squats in their workout routine because it effectively helps prevent injuries, boost your jumping and running performance, and maintain mobility and balance.
In addition to all these benefits, squats also help in the excretion of waste materials from the body, such as by aiding regular bowel movement. It also improves the ability of the body to deliver nutrition to the different tissues, organs, and glands.
Push-ups
Similar to squats, push-up exercises develop multiple muscle groups. The muscles and joints in your arms, shoulders, chest, core, back, and legs all work together to perform this exercise. Plus, push-ups burn lots of calories. So, it's an ideal part of workout routine for those who are trying to lose some excess weight.
And don't judge the intensity of this exercise just yet—you can always up your push-ups because exciting and heart-pumping variations are always available for fitness enthusiasts of different skill levels. You can never run out of new challenges with these variations!
What we especially love about push-ups is that you can perform it almost anywhere, well, ideally where there's an exercise mat that's available to keep things more comfortable and convenient.
Pull-ups/Chin-ups
What's the difference between pull-ups and chin-ups? There are a few differences including how the two exercises are performed, level of difficulty, and the muscle groups they build. In doing pull-ups, your palms are facing away from you while in chin-ups, your palms are facing towards you.
Both exercises develop muscles in the arms and back. In chin-ups however, we focus more on biceps and it's a little easier than pull-ups, though both are actually quite tough for beginners. Yes, we've been there, and because we know how it feels, here's an article that gives advice on how you can finally do a pull-up for the first time: https://www.12minuteathlete.com/how-to-finally-do-a-pull-up/
Bonus tip: Gradually add weights to your workout routines. Weightlifting is your best friend when it comes to strength training. Bench press and deadlifts are awesome workouts for those who have been training for a while and want to take their fitness routine to the next level.