The Glamorous Vegan
Yes, it's absolutely true. You can be glamorous and a vegan too. Long gone are the days when vegans were more likely to be barefooted and wearing hairshirts. Veganism is now embraced by people from all walks of life. Being vegan is increasingly admired and followed by many well-known celebs such as Ariana Grande, Jennifer Lopez, Demi Moore, Jay-Z & Beyonce. Social media is full of beautiful celebs and YouTube stars giving positive influence in an Instagram perfect way.
Moby, who has long been vegan and very vocal about 'animal rights', which was also the name of his 1996 album, has said: "Veganism should be a happy thing, not a miserable one. And we shouldn't make people feel bad or guilty for their lifestyle choices, even if they reject veganism."
Even people who don't have the moral values of animal rights are giving veganism a try for different reasons: there is certainly a great deal of research now that expounds the health benefits of a plant-based diet.
It's nothing new!
People all over the world have been vegan for years; it has just been less known about and attached with the stigma of weird people not washing very often, being highly malnourished, and hugging trees. (Although I do enjoy a good tree hug on a spontaneous walk in the woods, that isn't because I am a vegan).  It has seemed less accessible or unthinkable for the majority, hustling and bustling with their busy and fast paced lives and creating a demand for convenience. But in the past year or two things have started to change on a mass scale. Ripples of knowledge spread through documentaries, social media, celebrity news and blogs have created waves throughout modern society. My personal favourites: Cowspircy on Netflix and Deliciously Ella cook books.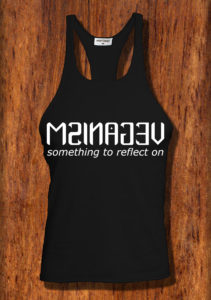 My journey to becoming vegan
I started as vegetarian on my journey to being vegan. When I started, I didn't even plan on going vegan. I use to joke and say it's like falling down a rabbit hole. You cut out meat, then you think about dairy and before you know it your wearing vegan shoes and growing dreadlocks. I am so glad I fell down that rabbit hole and discovered that I could still live a modern convenient lifestyle even without the use of animal products. And I'm particularly pleased that, as I'm also passionate about helping women feel good about themselves, an increasing number of products make it easy for women to be glamorous and vegan.

Veganism is gaining momentum

Times are changing rapidly and being vegan is becoming more and more infectious, making a massive change in communities and businesses. This year's Veganuary had nearly 170,000 people taking part, over 79,000 of whom said they normally eat meat. I huge number of people have maintained that vegan lifestayle. I am so happy that it is becoming more of a norm in society and we can still live in the modern age without needing to consume or use animal produce due to companies reaching out to meet the demand. With the new age of the modern vegan, being a glamorous vegan has never been easier.
Veganism and my beauty salon
Even big beauty companies that don't offer a full range of vegan and cruelty free produce have started offering a small selection to follow the trend and lifestyle of consumers right now. But there are also some wonderful companies that offer 100% beauty vegan products such as EarthZest Organics, Organically Epic and Bio Sculpture who have been vegan even before the trend set in.
I couldn't have planned a time better to go through the vegan transition with my beauty salon. With the fantastic ranges now on offer, I have been able to create a luxurious vegan beauty menu, whilst still keeping to the high quality results I demand for my clientele.
I feel being vegan also comes hand in hand with taking care of the environment too, depending on your purpose of transitioning: what's the point of saving the animals if you are destroying their habitat? I continually try to practice eco-friendly consumption in the salon, but that's for another blog…….
At the salon, after a lot of trialling, we are now able to offer waxing, facials, lash and brow tinting, body treatments and soon to be manicures and pedicure – all 100% vegan.  Clients hunt us down for that high quality, cruelty free beauty fix and even our non-vegan clients love coming to us because they know we offer cruelty free.
So farewell to the old stigma that sits with veganism and all things green, and welcome to the glamorous healthy life of being vegan and taking the time to really indulge ourselves in nature but keeping on point.
Courtney Smith is the owner and senior therapist at The Beauty Shop, a relaxing and tranquil beauty salon in Southend. She is passionate about self-care and helping people feel great in a natural, planet-friendly way. Courtney has worked hard to ensure that wherever possible, the products she uses and sells, such as Earthzest Organics, are cruelty-free and eco-friendly. She has recently launched a new Vegan Beauty Menu
The Beauty Shop
4 Plaza Way, Southchurch Road
Southend-on-Sea
SS1 2PU
Tel: 07468 425 977
Email: thebeautyshop@gmail.com