What does Mental Health Awareness Week mean to you?
So it's mental health awareness week 2017 #mhaw2017. What do you want for you? Only you can answer this.
For me, I only ever strive for peace of mind, I need my head to be in a safe place: when this is the case, I can cope with most things.
Having a clear head paves the way for my day.
It's a little ironic really, I have had mental health difficulties from a very young age, and when things got extremely tough at the age of 39, I created a mental health support group called Just Listening to You #jlty.
For me, it was an outlet to share my thoughts and feelings, good and bad. I originally started with a blog, but as I became unwell, I found that my thoughts were dark and frankly I didn't want to inflict these on you, so I stopped writing for a considerable amount of time.
Eventually I got myself into a safe head space and invited people to my home: the main aim of the group was to listen to each other without judgement, and perhaps learn from each other. Years on and the group is still very much like it.
I have has the pleasure of engaging with many people living with mental health difficulties and feel very honoured to do so. I feel like I am doing something important for another, holding out a life line.
It's so important that we recognise when another needs help, it's paramount in their ability to cope, survive or thrive. If you are not in the right place to help for another or yourself, seek out help elsewhere and let them take over.
If you go to this little group, they hold a beautiful space for individuals that need to be held during their must vulnerable times. The #jltyf's hold another's life which is so very precious and such a huge learning curve for all. It helps put lives into perspective.
Group love stretches right across them and no matter how stretched it becomes, Just Listening to You forgets no one, we simply grow in the love department.
Check the group out on Facebook, be loved by your peers, be listened to; #Jlty is here for you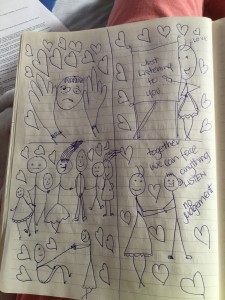 Bernie Bentley
Love You, Love Me
Just Listening to You is a voluntary Community group; here to listen and support anyone who has mental health difficulties by providing self-help based on personal experience. The group is about inclusivity, being non-judgmental, safety, confidentiality, honesty and fun. Founder, Bernie Bentley, has run the Just Listening to You group for a little over three years, and she now runs weekly sessions, in Westcliff -on -Sea, where like-minded people help each other overcome hurdles and manage mental well-being. The Group organise many local events to raise funds, combat stigma and create awareness of mental ill health.
At the age of 39, Bernie experienced a stroke and a mental health breakdown and had to engage the current NHS model, which is in place to support anyone with mental health difficulties. After discussions with her Psychiatrist, Doctor and Support Worker and finally getting to grips about just how bad treatment can get; Bernie decided to launch her FB Page and her group for anyone who needed her assistance. She took the opportunity to study and become a counsellor; this has certainly made a difference to JLTY Friends when running the group. It enables Bernie to not simply listen, but to hear what is unsaid.
Membership has rapidly increased, which is indicative of the shortage of services on offer to individuals with mental health needs; this is why Bernie believes that such a group is made available to everyone that needs it.
To find out more, and to talk to Bernie, please find contact details below:
07968 037507
bernie_jlty@outlook.com
bernie_bentley@yahoo.co.uk
www.justlisteningtoyou.com
Tags:
#JLTY
,
#mhaw2017
,
Just Listening to You
,
Mental Health
,
Mental Health Awareness Week
,
safe head space