A lovely birthday walk in Thorndon Country Park
It was Mike's birthday on Saturday and so a relaxing day was called for. It was a gloriously warm, sunny day and an ideal time to go for a countryside walk. There are so many lovely places in Essex to choose from, but we decided we would revisit Thorndon Country Park.
There are already some great articles about Thorndon Country Park on the web site: Thorndon Park and Hartswood and Country Walking in Thorndon Park
Not surprisingly on such a beautiful day, the park was really busy. Driving in to the main North Park entrance, we were surprised by how full the car parks were and had to park in the second overfill car park. But nonetheless, it was lovely to see so many people of all ages appreciating the joys of being out in the beautiful Essex countryside.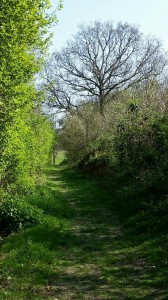 From the car park, we followed the outer perimeter heading towards the South Park, walking up Jury Hill and stopping to enjoy the view. Normally, you can see clearly across the Thames Valley to Kent, but it was a bit misty so the view was restricted to the busy A127! We continued past the lake with a wood carving of a fish jumping out of the water, to the South Park pavilion where we enjoyed a well-deserved ice cream.  But snacks and light lunches are available should the walk have wetted your appetite.
Unusually for us, we walked back via the public footpath which cuts through Thorndon Hall Farm, catching glimpses of the rather magnificent Thorndon Hall. The horse grazing by the crystal-clear lake looked as contended as we felt!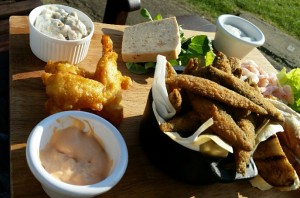 It was a lovely walk, but by now we were quite hungry and felt we deserved a late lunch at one of the local pubs. The Boars Head in Herongate turned out to be an excellent choice. Although now a chain pub, it is still an unspoilt Grade 11 listed country pub that, together with several nearby 17th & 18th century cottages, overlook the delightful village pond and Button Common.
Lunch was shared fish platter. Absolutely delicious!
Tags:
Brentwood
,
country park
,
countryside walk
,
Essex
,
Herongate
,
The Boars Head
,
Thorndon Country Park
,
Thorndon Hall Farm
,
walking