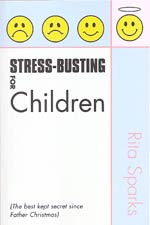 Stress-busting for Children 
(the best kept secret since Father Christmas)
by Rita Sparks (aka Rita Stanley of Grange Hypnotherapy).
A fantastic little book! I think this should be compulsory reading for all parents and guardians: actually, anyone who comes into contact with children.
Rita begins by explaining how a child's mind works. She explains it quite simply and it becomes all so obvious; and yet we often don't realise the effect our own words or actions may be having. Most of us just don't understand how emotions evoked from what children see, hear and feel (frequently real but often imagined or misunderstood) are repressed by the child deep into their subconscious mind, potentially causing a myriad of behavioural problems. None of us are exempt. This can unwittingly happen in even the most loving of home environments.
Rita strongly believes that parents of young children can obtain excellent results, often better than the therapist, by doing exercises with the child to remove their unconscious stress. The answer, she says, is to deal with it symbolically; but it needs to be done in such a way that the child is unaware, hence the subtitle to this gem of a book. And Rita provides the necessary tools: some well crafted stories that can be used to stop the bedwetting, the nightmares, the fears and phobias, whatever the problem is. But it is always the underlying emotion, the anger, the frustration, the fear, that is buried deep in the subconscious that is actually being dealt with, not the symptom. Cause and effect, as Rita says.
ISBN 0-9548195-0-0
Available online at www.stress-busting.com
Reviewed: Summer 2008