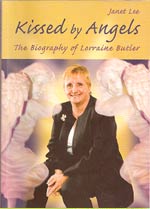 Kissed by Angels
The Biography of Lorraine Butler by Janet Lee.
Another book that made me laugh and made my cry!
Most people would say Lorraine Butler has had a tragic life. It has certainly been full of tragedy and heartache, yet she considers herself privileged to have been given the very special gift of mediumship: Lorraine describes her personal traumas as part of the essential journey to a life enriched with purpose.
The book follows Lorraine's life starting from her happy but poor childhood. She was always a bit strange, odd things seemed to happy to her, but she was very dismissive of them. She would see and hear things that other people could not, but never understood or really acknowledged what was happening to her. A rather loud and forthright person, the 'spirit world' was not on her agenda!
After the loss of her second son, Lorraine was unsurprisingly a physical and mental wreck. At the point of an attempted overdose, she turned instead to the Spiritualist Church for help. Was it instinct or another power leading her in that direction? This proved to be the turning point in her life. At first she was desperately in need of messages from her sons, but soon found she was receiving messages for others.
Today, Lorraine Butler is a well respected medium and her life is dedicated to working with spirit and providing others with messages of hope.
If you have doubts about the spirit world do read this book. The author herself was rather dismissive of mediums but since encountering 'creepy Lorraine' – as she calls her – all that has changed.
ISBN 1-904444-87-3, 
Or call Apex Publishing on 01255 428500
Reviewed: Summer 2008