Shiatsu massage

with Gavin King
I was delighted when Gavin King, an experienced martial arts instructor and Shiatsu practitioner, offered me a Shiatsu massage but did not really know what to expect. I don't have any health issues so it is always difficult for me to gauge the success of a treatment. But my massage was a pleasant and interesting experience and Gavin certainly exposed levels of tension and stress that needed to be dealt with. I left feeling a strange awareness that I found very difficult to articulate.
Gavin has been involved with martial arts since he was a child and has studied the various forms in depth, particularly Tai Chi. His knowledge is extensive and he continues his self-development in pursuit of excellence. This has led him to study body work and physical therapy: he is passionate about Shiatsu and how it can benefit individuals at so many different levels.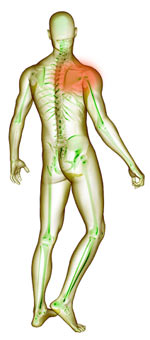 Shiatsu literally means 'finger pressure.' Shiatsu massage is carried out with the client fully clothed and uses hand pressure and manipulative techniques to adjust the body's physical structure and its natural inner energies to help ward off illness and maintain good health. The massage has traditionally been carried out with the client laying on a futon on the floor but many practitioners, including Gavin, now use a massage table. It might sound easy but actually requires a great deal of knowledge of how the body's systems work. Although Shiatsu is an ancient massage, it has much in common with many osteopathic techniques. Gavin has completed a 3-year course in order to be a fully qualified Shiatsu practitioner.
Gavin explains that most people feel immediate benefit after a Shiatsu session, but occasionally he needs to expose an emotional 'wound' or a problem before he can deal with it more effectively in a follow-up session. This sometimes leads to an initial negative response but further treatments will bring about immense relief. Gavin works very intuitively: he will ask the client if they have any physical injuries, any illnesses or are on medication but otherwise allows the body's own responses to the techniques he uses to guide him further.
Gavin is a very professional and knowledgeable young man. I would certainly recommend anyone with health issues ranging from stress to severe back and joint pain, and also athletes who want to maintain optimal fitness, tries a Shiatsu massage.
Gavin is based in Southend-on-Sea and can be contacted on 07834 555 772 and also operates the Essex School of Tai Chi.
Reviewed: by Jill Poet : April 2009
Picture Credits


"X-ray illustration male human body and skeleton" © Photographer:Tose | Dreamstime.com