Cymbeline Fields in one of Colchester Borough Council's nature reserves.  For me, it had remained a rather well-kept secret until recently one lunchtime, when I took a walk through the area. The entrance to the reserve is quite secluded, which is probably why I had never discovered it before. You get to the entrance by taking the Braiswick turn off at the A12 / Avenue of Rememberance roundabout. Then, as this twisting lane branches in two, bear right and just a few hundred yards ahead on the right you will see the signposted entrance, where there also parking space for three or four cars.
Friends tell me that in the mornings, this park is a dog walkers favorite. I can certainly see the appeal. As you start walking, the path is made-up (not at all muddy), there are plenty of dog litter bins, and the area is easily accessed. The beginning, until you reach a little bridge over the river, is suitable for wheelchair access. In this area there are also a few picnic tables. As far as amenities go, that's about it. No gift shop, no loos. The river that runs through the park is free flowing and lush with reeds and rushes. I saw two mallard ducks who seemed startled that I should be interrupting their lunchtime swim.
When the made-up path runs out many dog walkers would

probably have had enough and be heading back to the car. If you want to pursue a longer walk though, there are strategic signposts guiding you along recommended routes. Apparently you can obtain leaflets about these walks from the Highwoods Nature Reserve Visitors Centre. But for me it was enough to just take in the beautiful meadows I was passing. In spring, all manner of wild flowers, butterflies and insects can be seen in this idyllic setting. Whilst mornings might see a flurry of canine activity here, during the whole hour I walked, I didn't meet another walker. At this time of year, the lushness of these
ancient meadows combined with the solitude and warm sunshine gave me a feeling of calm and relaxation. Only the distant rush of Avenue of Rememberance traffic and the inevitable emergency vehicle siren jolted me back to modern day reality.
Cymbeline Fields is actually quite a misnomer. There are farm tracks to explore, and a substantial managed wood where I saw a variety of wild birds, rabbits and squirrels. At one point, a small russet coloured deer wandered across my path, just a matter of feet away. I am not sure if it was my lightfootedness, or the fact that he was otherwise pre-occupied in lunch that made him oblivious to my presence. (Normally deer see you long before you see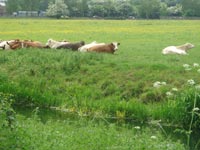 them!) I stopped and stared for a few fleeting seconds until he disappeared into the long grass of a neighbouring field.
I can only recommend Cymbeline Fields Nature Reserve as a wonderful place for some gently walking activity, for peace and solitude in a seeming timeless pastoral environment.  It's a place where all your senses will be refreshed. Colchester, the secret is out – for mind body and spirit, a walk in Cymbeline fields is very worthwhile.
Tags:
Cymbelline Fields Nature Reserve Colchester Essex walk excercise dogs dog walking