Thurrock Well Homes helps keep residents safe, warm and well at home
Thurrock Council's Private Housing Service would like to introduce Well Homes. Well Homes has been set up in order to keep residents of Thurrock safe, warm and well at home. Our aim is to improve the health and wellbeing of our clients. The service is open to all residents living in Thurrock in the private sector, owner-occupiers and privately rented tenants. That said we have a focus on the vulnerable in the community:
Priority residents
Older people aged 65 years and over
Residents with long term health conditions – mental health, respiratory and/or cardiovascular conditions
On low incomes
People with disabilities
Young children
Pregnant women
We aim to make residents feel warmer, safer and healthier at home by –
Help with boiler repairs or replacements or new installs
Offer financial assistance to owner-occupiers in order to carry out essential repairs in the home
Removing hazards from your home
Help with cavity wall and loft insulation
We can take up health and safety issues with Landlords
Handyman and gardening services
Installation of smoke detectors and security lights
Offer energy advice
Referrals to agencies who can help make life easier and promote independence i.e. family support, social groups, cleaning services etc
Health & Lifestyle advice – we can put them in touch with a range of services that can improve the quality of their life e.g. stopping smoking, weight management, free NHS health checks, etc.
Benefit maximisation
Referrals for adaptations in the home i.e. grab rails, wet room, stair lift etc
Entry into a free draw to win £25 of gas or electric bill
Good Food in a Well Home
Families with children might be interested in our project Good Food in a Well Home.
We are able to provide cooker/fridge/freezer where they are lacking or broken in homes of families. We also facilitate the attendance of cooking skills classes run locally to encourage healthy eating and cooking from scratch.
Our Well Homes Advisors will come and carry a free full inspection of your home, inside and out. Well Homes will always look at ways to help even if it is just giving advice and having a chat about your needs.
Since Well Homes has been running we have helped many residents of Thurrock and receive excellent feedback from our clients.
Case Study Of Well Homes Work
We received a referral from a Thurrock Occupational Therapist about a gentleman in his 70s who was living alone and in ill health. His boiler had been condemned by his energy provider. The client was not in receipt of any benefits, he was only in receipt of his state pension.
A well homes assessment was carried out. The property was found to be in disrepair. The front and back gardens were overgrown to the extent Ivy was blocking the light into the property.  The boiler was not working so the client had a small fan heater. The client's cooker was not working. There was a leak in the kitchen from a flat roof.
Outcomes
The client has had support from the local area co-ordination team and they have arranged for the front and back garden to be cleared
Client received £1,000 grant towards a new boiler
Private housing assisted in a loan for the client for the rest of the heating installation, a new back door, clearance of the front and rear garden, repairs of leaks to the bath, wash hand basin and kitchen sink
Essential living fund awarded the client a new cooker
Assistance was given for form completion and the client has applied for pension credit and attendance allowance
Smoke detectors were fitted by the fire service
Client Feedback
The client and his family are very happy and his son has said that it has 'lifted his Dad's spirits.' That's not surprising as one can imagine just by looking at the before and after pictures of the back garden.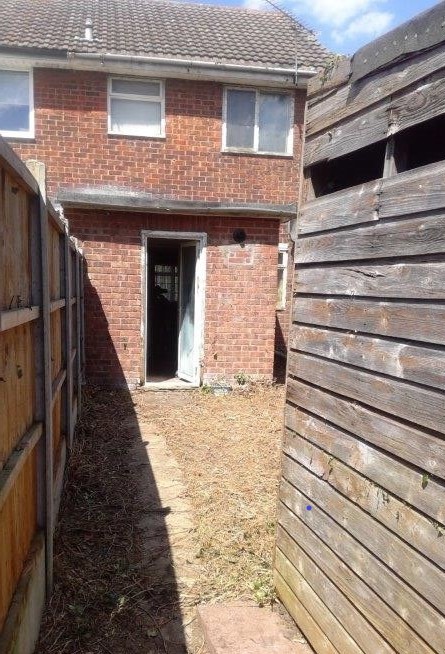 And after….
AND a free Prize Draw!
All those who have a Well Homes Assessment, even if you decide not to take up any of the options given, will be entered into a monthly prize draw to win a £25 credit on your energy bill. You have absolutely nothing to lose and potentially loads to gain. So why not:
For more information, contact the Thurrock Well Homes Team:
Telephone: 01375 652391
Email: wellhomes@thurrock.gov.uk
Web: Thurrock.gov.uk/wellhomes